Cranes Kit and System
A crane is a machine, usually equipped with hoisting ropes, wire ropes or chains, and pulleys, that can be used to lift and lower materials and move them horizontally. Mainly used for lifting heavy objects and transporting them to other places. Our cranes come in a variety of styles, including overhead cranes, gantry cranes, jib cranes, and more. These lifting devices use one or more simple machines to create a mechanical advantage, allowing loads beyond the normal human capacity, typically 500 kg to 550 tons. Cranes are commonly used for the loading and unloading of transported goods, the movement of construction materials, and manufacturing for the assembly of heavy equipment.
Crane for Sales
The main types of material handling cranes sold by Weihua Cranes are overhead cranes, gantry cranes, and jib cranes. The main capacity is 500kg to 550 tons. Here you can buy a crane with confidence.
Overhead Bridge Crane Product List
√ Capacity: 1 to 32 tons
---
√ Standard span: 6 to 30 m
---
Light-duty material handling systems is mainly used in light-duty workshops and warehouses such as in the textile industry and the food industry.
Gantry Cranes Product List
√ Capacity: 0.25 to 10 tons
---
√ Standard span: 2 to 12 m
---
Easily positioned for plant maintenance and service vehicle applications that require relocation and replacement of equipment and machinery.
√ Capacity: 0.25 to 10 tons
---
√ Standard span: 2 to 12 m
---
Adjusts height, and span for use on uneven floors, doorways, aisles, and under mezzanine or other overhead obstructions. Excellent gantry for warehouses and welding workshops.
√ Capacity: 2 to 80 tons
---
√ Standard span: 8 to 20 m
---
It is used for material handling in machining workshops, outdoor places, and warehouse loading and unloading.
√ Capacity: 1 to 32 tons
---
√ Standard span: 8 to 35 m
---
Mainly used for outdoor factories, freight yards, railway stations, indoor workshops, etc.
√ Capacity: 5 to 550 tons
---
√ Standard span: 12 to 35 m
---
Mainly used in manufacturing facilities, shipyards, scrap yards, railway yards, special construction sites, and steel mills.
√ Capacity: 5 to 32 tons
---
√ Standard span: 18 to 35 m
---
The "L" shaped leg feature makes it more convenient to load and unload long-length cargo such as steel pipes.
√ Capacity: 1 to 450 tons
---
√ Standard span: 10 to 48 m
---
The truss design has the advantages of being lightweight and strong wind resistance.
√ Capacity: 20 to 65 tons
---
√ Standard span: 12 to 38 m
---
Mainly used for port, terminal container handling, construction, and another material handling.
√ Capacity: 25 to 65 tons
---
√ Standard span: 15 to 35 m
---
Mainly used for container loading, moving, and stacking in railways and large container yards.
Jib Cranes Product List
√ Capacity: 0.5 to 20 tons
---
√ Standard span: 3 to 12 m
---
√ Rotation angle: 360°
---
Mainly used for workstations. Independent installation on the building floor. 360° swivel range available.
√ Capacity: 0.25 to 10 tons
---
√ Standard span: 3 to 6 m
---
√ Rotation angle: 210°
---
Used in workstations, workshops, warehouses, etc. Fixed to walls or concrete columns and can be customized to rotate.
√ Lifting Capacity: 0.25 to 2 tons
---
√ Lifting Height: 1 to 3 m
---
√ Rotation angle: 360°
---
Can be moved arbitrarily, suitable for workstations that are not frequently used.
√ Capacity: 1 to 10 tons
---
√ Standard span: 3 to 10 m
---
Slide horizontally along the track on the wall. They can be operated under overhead cranes, enabling multiple logistical processes in the production area.
√ Capacity: 0.25 to 10 tons
---
√ Standard span: Up to 5 meter
---
√ Rotation angle: 360° and 210°
---
Freestanding, Wall-mounted, and Ceiling-mounted are suitable for light lifting loads such as workstations, shops, and consoles.
Cranes Serve
WeiHuaCrane can provide one-stop solutions for cranes, including design, production, installation, training, maintenance, repair, etc.
Also offers OEM/ODM service for cranes.
Products can be customized according to your individual requirements.
Please tell us your ideas or provide your design files and our R&D team will do the rest.
Cranes Details
Cranes Structure
cranes have a beam supported by two legs that are fixed on rails for fixed work areas or equipped with swivel casters on both legs to work in specific areas.
WeiHuaCrane sells a wide range of cranes to improve your business' material handling processes and production. We have a variety of configurations so you can choose the crane that best suits your application or structure.
Lifting hoists device
Wire rope hoists, electric chain hoists, manual chain hoists, and electric winches are available for selection.
Trolley Options
The Trolley is available in electric Trolley and manual hand Trolley options.
Frame
There are a variety of frames to choose from, usually depending on your environment of use and the materials you need to handle. The most common is the A-frame.
Crane Type
cranes can be classified according to their configuration, design, carrying capacity, and type of material to be handled.
Overhead Cranes: Bridge Cranes, Gantry Cranes, Jib Cranes, Workstation Cranes, Monorail Cranes, Automatic Cranes, Top-running cranes, and Under Running Cranes.
Classification by weight lifted: small cranes(small overhead cranes and large overhead cranes; light overhead cranes and heavy overhead cranes
Overhead Cranes
Overhead cranes come in a variety of sizes, shapes, and capacities, and choosing the right type of overhead crane is critical to streamlining the production process.
According to the structure, it can be divided into a single girder overhead crane and a double girder overhead crane.
The different hook devices, can be divided into hook overhead cranes, grab overhead cranes, electromagnet overhead cranes, and overhead container cranes.
The KBK crane system is a light-duty material handling system designed to meet your specific application requirements accurately, quickly, and efficiently. Mainly include: freestanding bridge cranes, monorail cranes, ceiling mounted bridge cranes.
---
Gantry Cranes
In many ways, these factors are interrelated to determine the type of gantry crane.
Small mobile gantry crane: portable gantry crane, adjustable gantry crane, A-Frame Cranes, Aluminum Gantry Cranes.
According to different lifting capacity classifications, 1 to 20 tons are usually light gantry cranes, and more than 20 tons are usually heavy gantry cranes.
According to the gantry beam design classification, it is divided into single girder gantry cranes, double girder gantry cranes, truss gantry cranes, and box gantry cranes.
The design and classification of gantry outriggers are divided into semi-gantry cranes, L-type gantry cranes, and U-type gantry cranes.
The types of handling materials, it is divided into hook gantry crane, container gantry cranes, grab gantry cranes, and electromagnet gantry cranes.
---
Jib Cranes
Jib cranes are divided into the following 6 types:
Free Standing Jib Crane
Foundationless Jib Cranes
Wall Bracket Jib Crane
Wall Cantilever Jib Crane
Mast Type Jib Crane
---
The types of Container Cranes are Rubber Tyred Gantry Cranes, Rail Mounted Gantry Cranes, and Ship-to-Shore Gantry Cranes.
---
Other classifications of cranes:
Specification
Please check the following specifications to choose the right cranes.
Larger cranes were available on request.
| Feature | Specification |
| --- | --- |
| Lifting capacity | up to 550 tons |
| Lifting height | 1 to 30 Meters; according to your needs |
| Span | 6 to 35 Meters; according to your needs |
| Options | electric, manual, diesel |
| Lift speed control | Single-speed, double-speed, or variable frequency hoisting |
| Crane Control Options | Push Button Pendants, Radio Controls, cab |
| Hoist Options | Wire rope hoist, chain hoist, winch trolley |
| girder design | Profile or box beam or truss |
| temperature | -20℃ ~ +40℃ Special function for wider temperature range |
| environment | Special designs are typically used indoors – outdoors |
Cranes Features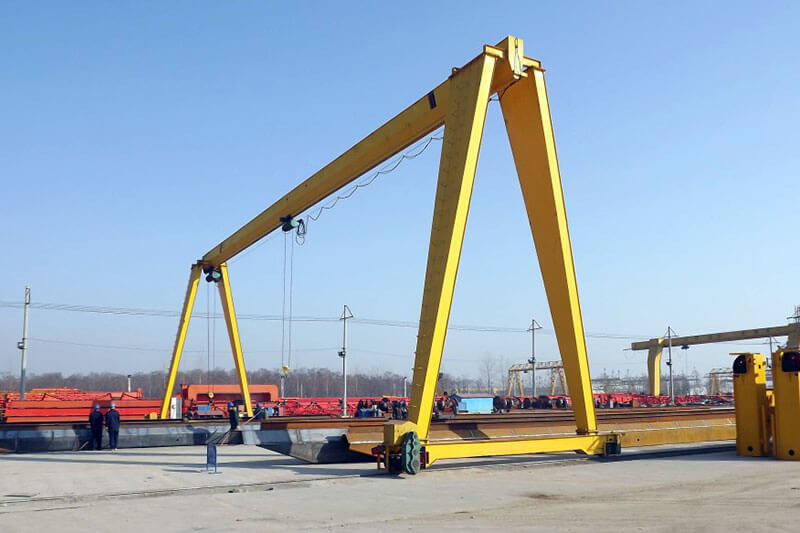 Best Crane Manufacturer
WeiHuaCrane is a leading crane manufacturer, supplier, company, and factory.
As one of the leading crane manufacturers, WeiHuaCrane provides you with cost-effective overhead lifting equipment, which can be perfectly adapted to your working environment.
The first choice for factories and construction companies, is fast production, fast service, and can meet the needs of your material handling projects in a short time.
Customize the solution according to your usage environment.
We design, manufacture, install and maintain cranes.
What is a Crane?
A crane is a type of machine or equipment used in an industrial setting that allows you to lift and move heavy objects from one location to another in a precise manner.
cranes consist of two parallel rails that rest on longitudinal I-beams and are contacted to opposite steel columns by brackets. The hoist, the lifting part of the electric winch, travels along the bridge.
Commonly used in various manufacturing companies and factories, the following are the applications of cranes:
Why choose our cranes?
Cranes have always been our core product. We updated many items to make the structure safe and sound. Here are our advantages:
1. WeiHuaCrane overhead cranes are easy to install and relocate.
2. We use standardized quality I-beams and wide flange beams.
3. All nuts, bolts, and pins are galvanized to prevent corrosion.
4. Outdoor use options are available, including exterior coatings and stainless steel motors.
Frequently Asked Questions