Wire Rope Hoists System
Electric wire rope hoists are the best lifting equipment for cranes and are an excellent choice for handling loads with ease, repetitive work cycles, and advanced lifting capabilities.
Electric Wire Rope Hoists for Sales
Our electric wire rope hoists provide solutions for enhanced safety needs, including hazardous environments, spark resistance, and enclosed headroom designs.
Safe and simple to use in a variety of hazardous environments. Reliable multi-purpose hoist with its robust steel frame and explosion-proof hoist supporting industrial lifting up to 80 tons for hazardous environments in a variety of industries.
An ergonomic user interface allows the operator to focus on lifting, while state-of-the-art speed control and motor technology provide accuracy and safety. The rope drum has a large diameter, the hoist is compact in size, and the hook access is minimized. The flameproof enclosure protects the motor and electrical components.
Electric Wire Rope Hoists Product List
Explosion-proof Electric Hoist for 1- 80 tons material handling. FEM electric hoist for sale high-quality good price, saving your budget for long run! You want it when you know it!
Wire Rope Hoists Serve
WeiHuaCrane can provide one-stop solutions for Wire Rope Hoists, including design, production, installation, training, maintenance, repair, etc.
Also offers OEM/ODM service for Wire Rope Hoists.
Products can be customized according to your individual requirements.
Please tell us your ideas or provide your design files and our R&D team will do the rest.
Wire Rope Hoists Details
Wire Rope Hoists Components
There are mainly bridges, crane walking systems, hooks, hoists, trolleys, and electrical equipment.
Crane Bridge
The cross-bridge of an overhead crane runs longitudinally alongside crane tracks or crane rails which are laid on runway beams over the square operating area. Crane Bridges are manufactured from steel plates or steel beams which are contacted with end carriages or end girders kits to move on the runway.
Hoisting Trolley: wire rope hoist, electric chain hoist, winch
The lifting trolley consists of the lifting mechanism which contains the overhead crane parts and components such as a brake, motor, reducer, drum, and set of pulleys. The motor drives a drum that rotates through the reducer to power the wire rope or chain that lives up and down the load. And also the lifting trolley of an overhead crane can be grouped in the wire rope hoist trolley, electric chain hoist trolley, and processed open winch trolley which is usually used in heavy-duty applications, such as in steel mills for hot ladle handling, etc.
Driving Mechanism: Motor, Reducer, Wheels & Brakes
The driving mechanism of overhead cranes can be grouped into two parts, one is for the long traveling of the overhead crane and the other is for the crossing traveling of the lifting trolley. Various types of motors, reducers, wheels, and brakes are adopted for different uses and applications.
Power Supply: Conductor Bar, Festoon System & Cable Reel
The power supply is very important for the complete overhead crane system. There are mainly three types of power supply systems by using conductor bars, festoon systems, and cable reels.
The major types of overhead cranes adopt electricity as the driving power and there are all other types of power supply such as pneumatic power and hydraulic power. As for the electric overhead crane, the supply systems have mainly consisted of the following crane parts and components such as festoons cable, conductor bars, or reel cables to deliver power to the crane runway, bridge crane control, and trolley and hoist.
Conductor Bar – A conductor bar system is adopted on the crane's runway or monorail. They can be established on crane runways with more than one bridge. The electric power is supplied through a sliding shoe collector system, the safer way of power supplier for overhead cranes.
Festoon System – A festoon system can be mounted on a track, I beam, or square rail, which can be grouped into flat or round cables. The festoon system is used for the power supply of the crane trolley which moves along the track and the festoon cable hangs below the track and expands or retracts with the position changing or traveling of the trolley.
Cable Reel – Spring-loaded cable reels or motorized cable reels are widely adopted to release, retrieve, and store the conductor cable, for mainline power along a runway or monorail.
Controls
Each and every operation or movement of overhead cranes are managed by crane controls. Based on different applications or types of overhead cranes, the overhead crane is operated by different crane controls. Namely, there are three types of crane controls are used, the pendant crane control, the wireless remote control/radio control, or driver's cabin control, which also can be classed into various types.
For heavy-duty overhead cranes with 24 hours working time or applications that are not suitable for human operation, the automatic crane control is realized by software programs, which is namely used on automatic cranes.
Runway
Crane runways are important crane travelling components and parts. Based on the crane application conditions and types of overhead cranes, the most suitable crane runways will be selected among the top running runway structure, ceiling-mounted runway, wall-mounted runway, or free-standing runway, etc.
How to select the right crane runway for your crane? The factor that needs to be confirmed is the length of the runway, which determines the speed and movement of the trolley and hoists up and down the runway. For more information, please feel free to contact us. The installation of a crane runway is challenging work depending on the type of supporting structure or mounting support where the bridge crane will be installed.
Wire Rope Hoists Type
Overhead cranes come in a variety of sizes, shapes, and capacities, and choosing the right type of overhead crane is critical to streamlining the production process.
According to the structure, it can be divided into a single girder overhead crane and a double girder overhead crane.
The different hook devices, can be divided into hook overhead cranes, grab overhead cranes, electromagnet overhead cranes, and container overhead cranes.
Overhead Cranes: Bridge Cranes, Gantry Cranes, Jib Cranes, Workstation Cranes, Monorail Cranes, Automatic Cranes, Top-running cranes, and bottom-running cranes.
Specification
Please check the following specifications to choose the right Wire Rope Hoists.
Larger Wire Rope Hoists were available on request.
| Feature | Specification |
| --- | --- |
| Lifting capacity | 1 to 80 tons |
| Lifting height | according to your needs |
| Lift speed control | Single-speed, double-speed, or variable frequency hoisting |
| Crane Control Options | Push Button Pendants, Radio Controls, cab |
| Hoist Options | Wire rope hoist, chain hoist, winch trolley |
| girder design | Profile or box beam |
| temperature | -20℃ ~ +40℃ Special function for wider temperature range |
| environment | Special designs are typically used indoors – outdoors |
Wire Rope Hoists Features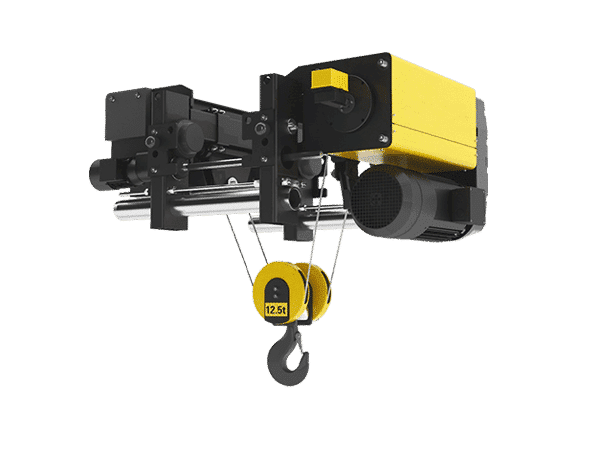 Best Solutions For Manufacturing Company and Factory
Best Wire Rope Hoists Manufacturer
WeiHuaCrane is a leading Wire Rope Hoists manufacturer, supplier, company, and factory.
As one of the leading Wire Rope Hoists manufacturers, WeiHuaCrane provides you with cost-effective overhead lifting equipment, which can be perfectly adapted to your working environment.
The first choice for factories and construction companies, fast production, fast service, and can meet the needs of your material handling projects in a short time.
Customize the solution according to your usage environment.
We design, manufacture, install and maintain Wire Rope Hoists.
What is a Wire Rope Hoists?
Electric wire rope hoists are the best lifting equipment for cranes and are an excellent choice for handling loads with ease, repetitive work cycles, and advanced lifting capabilities.
Commonly used in various manufacturing companies and factories, the following are the applications of Wire Rope Hoists:
Why choose our Wire Rope Hoists?
Overhead cranes have always been our core product. We updated many items to make the structure safe and sound. Here are our advantages:
1. Lightweight yet strong steel construction minimizes building stress
2. while allowing accurate load handling
3. Inverter-controlled smooth, accurate, and safe driving motion
4. Can be customized according to specific requirements
5. easy to maintain
Frequently Asked Questions