Jib Cranes System
A jib crane is a small overhead lifting device typically used in smaller work cell areas such as workstations, garage maintenance, consoles, etc. for repetitive and unique lifting tasks.
Jib cranes are versatile and can also be paired with overhead cranes to maximize production.
Jib Crane for Sale
WeiHuaCrane sells a variety of jib cranes ranging from 250kg to 10t capacity (custom designs can be up to 20t but are less common), which can increase worker productivity and improve safety.
WeiHuaCrane jib cranes are favored by construction companies because of their short production time, short installation time, low cost, and immediate operational availability.
Contact us to customize your jib crane model and get an economical price.
Jib Cranes Product List
√ Capacity: 0.5 to 20 tons
---
√ Standard span: 3 to 12 m
---
√ Rotation angle: 360°
---
Mainly used for workstations. Independent installation on the building floor. 360° swivel range available.
Jib Cranes Serve
WeiHuaCrane can provide one-stop solutions for jib cranes, including design, production, installation, training, maintenance, repair, etc.
Also offers OEM/ODM service for jib cranes.
Products can be customized according to your individual requirements.
Please tell us your ideas or provide your design files and our R&D team will do the rest.
Jib Cranes Details
Jib Crane Structure
Reach/Boom – The horizontal beam on which the cart travels back and forth.
Mast/Pillar – Vertical beam used to support booms on freestanding and mast systems.
Mobile Hoists – Hoists are used to lift, position, and lower loads (usually electric chain hoists or wire rope hoists).
Trolley – The movement of the trolley can be manual or electric. The trolley carries the hoist, wire rope, or chain and hooks along the entire length of the boom.
Rotation – On freestanding and mast jib cranes, you can achieve 360° boom rotation. On wall-mounted and column-mounted jib cranes, you can achieve a 180-200° rotation.
Electrification – Slip rings or pneumatic airlines can be added to the top or bottom of the mast to provide rotation assistance and allow for continuous 360° boom rotation.
Control – On an electric boom system, you can use the push button controller to control the rotation of the boom, as well as the movement of the trolley and the lifting and lowering movement of the hoist. Hoists and trolleys can use multi-speed or variable-speed control.
Hook height – how high can you or would you like to go with your lift? You need to know the lowest overhead obstacle to know how high your jib crane can be.
Rotation stop – If the crane is close to a wall or other obstacle, the rotation stop will limit the crane's movement until it collides with a nearby object.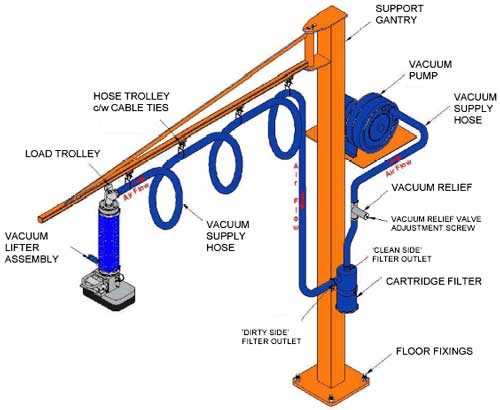 Jib Cranes Type
Jib cranes are divided into the following 6 types:
Free Standing Jib Crane
Foundationless Jib Cranes
Wall Bracket Jib Crane
Wall Cantilever Jib Crane
Mast Type Jib Crane
Specification
Please check the following specifications to choose the right Jib cranes.
| Standard | Pillar-mounted Jib crane | Wall-mounted Jib crane |
| --- | --- | --- |
| Lifting capacity | 0.25 tons to 20 tons | 0.25 tons to 10 tons |
| Arm length | 3 m to 12 m | 3 m to 6 m |
| Maximum rotation | 360° | 270° |
| Crane Control | Push Button Pendants, Radio Controls | Push Button Pendants, Radio Controls |
| Hoist options | Manual hoist, electric chain hoist, wire rope hoist | Manual hoist, electric chain hoist, wire rope hoist |
| Lift speed control | Single-speed, double-speed | Single-speed, double-speed |
| Ambient temperature | -20 ℃ to +70 ℃ | -20 ℃ to +70 ℃ |
| environment | Special designs are typically used indoors – outdoors | Special designs are typically used indoors – outdoors |
Jib Cranes Features
Best Solutions For Workstation, Manufacturing Company, and Factory
Best Jib Crane Manufacturer
WeiHuaCrane is a leading jib crane manufacturer, supplier, company, and factory.
As one of the leading jib crane manufacturers, WeiHuaCrane provides you with cost-effective overhead lifting equipment, which can be perfectly adapted to your working environment.
The first choice for factories and construction companies, fast production, fast service, and can meet the needs of your material handling projects in a short time.
Customize the solution according to your usage environment.
We design, manufacture, install and maintain overhead cranes.
What is a Jib Cranes?
A jib crane is a fast, precise material handling tool that is critical to any production process that requires speed, accuracy and minimal downtime. Engineered for a seamless user experience, they are versatile and durable enough to fit on virtually any type of workstation, support overhead cranes on production lines, and help keep docks, processing cells and warehouses running smoothly.
Jib cranes attach the jib to a wall or floor in several different ways, and they are ideal for most customer facilities. These cranes have a load capacity of up to 10 tons and can swivel up to 360° for column jibs and 270° for wall-mounted jibs.
Commonly used in various manufacturing companies and factories, the following are the applications of Jib Cranes:
Why choose our Jib Cranes?
WeiHuaCrane Jib Crane is a fast and precise material handling tool with the following product advantages:
Frequently Asked Questions