Waste Handling Cranes
Waste handling cranes are primarily designed to handle Waste metal, which is delivered by other means of transport and then processed in Waste yards and eventually sent to the smelter's smelter shop, so these Waste cranes are designed to withstand the heavy lifting of Waste yards, frequent use, and harsh environments.
Difficulty in handling Waste, Waste has no definite shape that can be mounted on hooks or pliers. And the waste is also often mixed, so it needs to be re-sorted.
The Waste crane is a heavy-duty high-speed crane that handles Waste at the yard and loads it into trucks or ladles for transport to the smelter shop. The Waste handling crane is equipped with magnets, hydraulic grabs, etc., and can handle 35 tons of Waste.
We provide you with waste-handling cranes that can be adapted to any load type and site environment and are equipped with automation to suit your requirements. Used to increase your productivity and safety and increase your cost-effectiveness. In addition, due to the dust and noise in Waste, we also paid special attention to the working environment of the crane operator.
Types of Waste Handling Cranes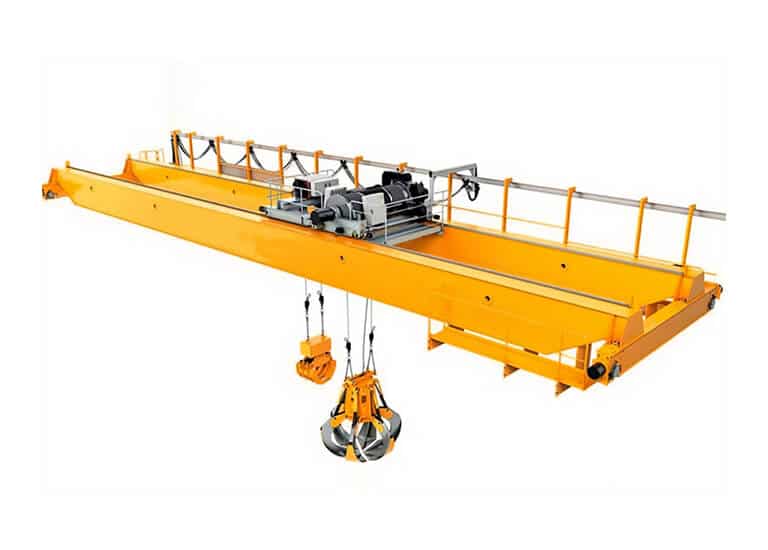 overhead crane
Grab cranes are the most commonly used waste-handling cranes and can handle a wide variety of waste.
| | |
| --- | --- |
| Load Capacity | 2 to 35 tons |
| Span | 8 m 20 m |
| Lifting speed | 6 to 11.5 m/min |
| Hoist running speed | 20 to 40 m/min |
| Crane running speed | 20 to 40 m/min |
| Work duty | A3, A4, A5, A6 |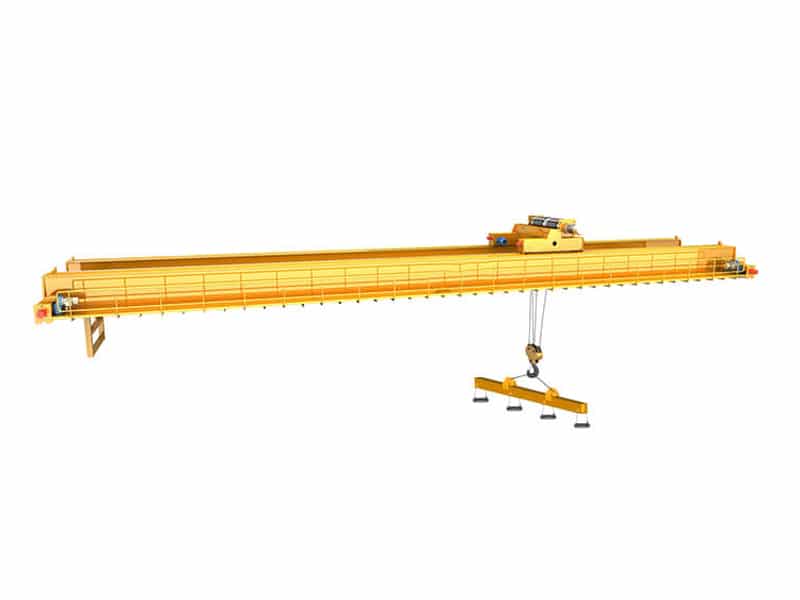 overhead crane
Electromagnetic cranes are the most commonly used cranes for metal handling.
| | |
| --- | --- |
| Load Capacity | 5 to 50 tons |
| Span | 10 to 35 meter |
| Lifting speed | 11.7 to 13.2 m/min |
| Hoist running speed | 31.3 to 37 m/min |
| Crane running speed | 58.5 to 74.3 m/min |
| Crane Control Options | Radio Controls, cab |
| Work duty | A4, A5, A6, A7 |
Waste handling cranes Serve
WeiHuaCrane can provide one-stop solutions for Waste handling cranes, including design, production, installation, training, maintenance, repair, etc.
Also offers OEM/ODM service for Waste handling cranes.
Products can be customized according to your individual requirements.
Please tell us your ideas or provide your design files and our R&D team will do the rest.
Waste Handling Cranes Details
Waste Handling Cranes Customized Options
Waste Handling Cranes Components
There are mainly bridges, crane walking systems, hooks, hoists, trolleys, and electrical equipment.
bridge
It consists of the main beam, end beam, walking plate, column, test cage, cabin, and platform.
Main beam
Welded box-type double main beam;
The steel plate material is steel Fe37 or Fe52;
The main end beam is contacted by high-strength bolts;
The main beam can be an ordinary track beam or a non-track beam;
end beam
The end beams are welded by rectangular tubes or high-quality steel plates;
The main beam and the end beam are contacted by bolts;
Crane Travel System
The ground control adopts a soft start, with a small current, no axial swing, less motor, suitable for the frequent start, and good green energy-saving effect.
The cabin controls our ZDR series tapered winding rotor, three-phase asynchronous motor, or electromagnetic brake motor, with high mechanical strength, compact structure, and adjustable braking torque.
The motor starts smoothly and brakes safely.
The sky wheel, platform wheel, and brake wheel are processed by medium frequency induction quenching and power frequency quenching, and the hardness of the heat treatment is controlled by a Leeb hardness tester.
Hook – Use a hook attached to the crane to support the lifted load (can also be a grapple, electromagnet, etc.).
Hoists – A device that lifts and holds, raises or lowers a load using a wire rope or chain hoist or electric winch.
Trolley – consists of a motor, a reducer, and a trolley frame.
The trolley supports the hoist and moves horizontally along the crane bridge in order to position the hoist and hook before picking up or lowering the load.
electrical equipment
The safety contact wire has high conductivity, low pressure, and high set electric sliding speed.
The wire ropes in the electric box are neat and easy to maintain.
The power supply of the trolley is provided by the flat cable.
Smooth sliding and beautiful appearance.
protective device
The outdoor crane is equipped with a hoisting mechanism, an electrical control box, and a rainproof device.
Set the trolley travel interval device.
anti-collision device
Sound and light alarm device
operating device
Pendants, Remote Controls, Cabin Controls
Dedicated cabins for overhead cranes or capsule cabs with a wide field of vision and comfortable operation.
Waste Handling Cranes Type
Waste Handling Cranes are usually large heavy-duty cranes, usually overhead cranes.
The types of steel mill cranes are ladle cranes, electromagnetic cranes, and grab cranes.
Specification
Please check the following specifications to choose the right Waste Handling Cranes.
| Feature | Specification |
| --- | --- |
| Lifting capacity | up to 50 tons |
| Lifting height | up to 30 Meters; according to your needs |
| Span | up to 35 Meters; according to your needs |
| Lift speed control | Single-speed, double-speed, or variable frequency hoisting |
| Crane Control Options | Radio Controls, cab |
| Hoist Options | Wire Rope Hoist, Winch Trolley |
| girder design | Profile or box beam |
| temperature | -20℃ ~ +40℃ Special function for wider temperature range |
| environment | Special designs are typically used indoors |
Waste handling cranes Features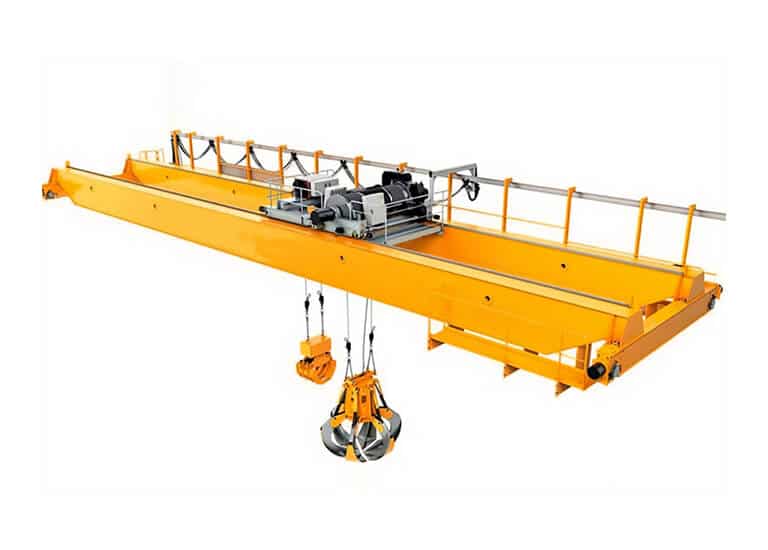 Best Solutions For Manufacturing Company and Factory
Best Waste handling cranes Manufacturer
WeiHuaCrane is a leading Waste handling cranes manufacturer, supplier, company, and factory.
As one of the leading Waste handling cranes manufacturers, WeiHuaCrane provides you with cost-effective overhead lifting equipment, which can be perfectly adapted to your working environment.
The first choice for factories and construction companies, is fast production, fast service, and can meet the needs of your material handling projects in a short time.
Customize the solution according to your usage environment.
We design, manufacture, install and maintain Waste handling cranes.
What is a Waste Handling Cranes?
Waste Handling Cranes to transport molten metal ladle to the furnace, or transport molten metal from furnace to continuous caster, mixing furnace, steelmaking furnace.
Steel mill cranes are often exposed to radiant heat and high temperatures, so safety and reliability are top priorities.
Why choose our Waste Handling Cranes?
Waste Handling Cranes have always been our core product. We updated many items to make the structure safe and sound. Here are our advantages:
1. Quick installation, quick adjustment according to your existing production plan, minimizing equipment and production downtime.
2. Ergonomic
3. Cost-effectiveness
4. Lightweight
5. Sturdy and durable
6. Wide range of uses
7. Flexible
Frequently Asked Questions